The College library is the gateway to knowledge, provides a basic condition for life-long learning, independent decision-making, and cultural development of the students and the teachers. Focusing upon the very important role of the library, our college Library has been growing steadily over the years.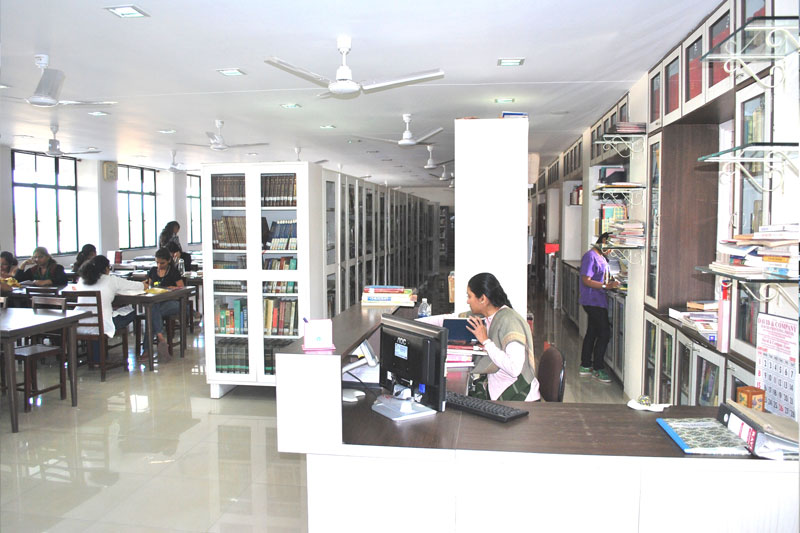 Library

Main Library

PhD. Reading Room

Area

2800 sqft

64 sqft

Timings

8.30a.m. to 6.00 p.m. (Monday to Saturday)




The Library timings are changed during the vacation
Library Advisory Committee
Dr. Geeta Ibrahim
Chairperson (Principal)
Ms. Vibha Hasija
Teaching Faculty (FND department)
Ms. Cheryl Machado
Junior Clerk
Mrs. Prajakta P. Mhaprolkar
Committee convener (Librarian)
Ms. Sanghmitra Navalgund
Teaching Faculty (TFT department)
Mr. Rajpal Balmiki
Support staff
Dr. Anuradha Bakshi
Teaching Faculty (HD department)
Mr. Shankar Pandey
Junior College Teaching Faculty
Ms. Reshma Chatur
Support staff
Rules and Regulations of The Library
Absolute silence must be maintained in the Library.
The Library will remain open from 8.30 a.m. to 6.00 p.m. on all working days
Library membership can be obtained by paying a Library deposit. The deposit may be forfeited if the book is spoiled.
Book will be issued only on Library Card.
Books will be issued between 9.30 a.m. to 5.00 p.m. on all week days and for Saturday 9.30 a.m. to 4.30 p.m.
Every student is entitled to borrow study book for a period of five days and fiction book for fifteen days
The permanent teaching staff member can borrow 5 books at a time, whereas temporary staff can borrow 2 books at a time. The permanent non-teaching staff can borrow 5 books and a temporary non-teaching staff can borrow 2 books at a time.
Every book issued for home reading must be returned to the library on or before the date marked on the due date slip in the book. Failure to notice it will not be considered a valid excuse for delay.
Books having demand but with limited no. of copies with our library can be issued only for overnight.
In case of late return of books, a fine of Rs.8/- for overnight book and Rs.5/- for others books will be charged for every day after due date. Persistent delay or default in returning book will penalize by withdrawing of the home reading facility.
Reference books i.e. Encyclopedias, dictionaries, handbooks, Audio/Visual Material etc. are meant exclusively for the use in the library.
Journals/ magazines (bound or loose issues), Dissertations and Audio/ visual material will not be issued for home reading. Members will have to refer to them in the library only.
Dissertations will not be given out of the Library for photocopying.
Fiction – Students who wish to a member of the fiction library can do so by paying Rs. 100/- as annual fee.
OPAC has been provided for tracing books in the collection
Books may be reissued for five days more, provided there is no claim for them.
Holders of the Library card will bear full responsibility for books issued on Issued on their card.
If the Library Card is lost, fresh one will be issued on payment of Rs.50/- for Each card
Cooperation of students is earnestly requested in observing above mentioned Rules and Regulations.
Mrs. Mhaprolkar, Prajakta
Librarian
(B.A., M.L&I Sc.,NET)
Miss. Baindurkar, Nivedita
Librarian Assistant
(M.Com, M.L.& I.Sc)
Mr. Balmiki, Rajpal
Attendant
(8th pass)
Mrs. Chatur, Reshma
Attendant
(B.Com)
| | |
| --- | --- |
| Article | 11246 |
| Book | 14451 |
| Bound Volume | 1748 |
| CD | 380 |
| Dissertations | 1151 |
| | |
| --- | --- |
| E. C. E. Lab, Material (H.D.) | 1306 |
| E-Journals | 1306 |
| Journals and Magazine | 35 |
| Fiction | 933 |
| Ph. D. | 29 |
Reading Hall

The reading hall of the library is on the fourth floor of the college. It accommodates about 100 readers. There is a separate section for Ph.D. Students & Staff members. The students have to show their identity cards and library tickets while entering into the reading hall. The hall is kept open between 8.30 am to 6.00 pm. on all working days.
Overnight Reading

A reader requires a book for home reading and a copy of the same book is not spared with home lending counter, then the book is issued to the reader against his/her identity card with a written permission from the Librarian, for overnight only at closing time of the library.
Current Reading

Periodicals/Magazines, Newspapers are to be referred to in the library only. Students are required to deposit their identity cards with library staff for borrowing those materials.
Home Lending

The counter for home lending is kept open between 8.30 am to 5.30 pm. on all working days of the week. Students can borrow study books for five days and fiction books for fifteen days from this counter
Reference Service

The staff of the library and librarian help the readers in finding their queries. Readers are also provided with relevant documents, which are of interest to them and they are shown the technique of finding information.
Bibliographic Service

List of books is provided to the faculty as well as students if it is demanded by them. Also the list of new arrival is given to respective departments.
Article Indexing

The library has been indexing articles from research journals and this facility is made available to the library users.
Inter-Library Loan Facility

The College Library provides inter-library loan facility to its readers to cater to the extra reading needs of its readers.

Following are the institutions, which are interconnected with our college library:

Nirmala Niketan College of Social Work, Mumbai
SNDT University, Mumbai
Anjuman Islam college of Catering and Management
Assistance To Visit Other Libraries

Students are provided with letters to enable them to visit other libraries and access their library material.
Photocopying Facility

The library has been providing photocopying facility to its readers. The library possesses a good collection of reference books that cannot be given to the readers for home reading. Readers can get a part of those documents, photocopied at the rate of Rs.1 per black &white page and Rs. 8/- for per color page.
Printout Facility

The library has provision for printout at the rate of Rs. 3 per page(black and white )
Internet Facility

The library has been providing Internet services to its readers free of cost.
The Early Childhood Care and Education Laboratory Material

The Early Childhood Care and Education laboratory material is stored in the library. The material consists of developmentally appropriate books, puppets, flashcards, games and toys to be used as teaching aids – some of which are purchased while some are made by students as part of their coursework at SYBSc, TYBSc (HD) and MSc (HD) levels.
E-Journals
The College library has subscribed following e-journals, which are used by the Ph.D. and M. Sc. students
| | | | |
| --- | --- | --- | --- |
| SR. NO. | PARTICULAR | STATUS | AMOUNT |
| 1 | International Journals of Sports Nutrition & Metabolism | (P+O) | 72606.00 |
| 2 | International Journals of Food Nutrition & Diet | (P+O) | 6000.00 |
| 3 | Journal of Food Science & Technology | (P+O) | 6800.00 |
| 4 | American Journal of Nutrition | Online only | 48528.00 |
| 5 | Journal of Nutrition | Online only | 64631.00 |
| 6 | Childhood Education | (P+O) | 23527.00 |
| 7 | Nutrition Reviews | (P+O) | 42266.00 |
| 8 | Merrill Palmer | (P+O) | 32487.00 |
| 9 | Psychological Studies | (P+O) | 5700.00 |
| 10 | Asian Journal of Research in Marketing | Online only | 3600.00 |
| 11 | Training & Development Journal | Online only | 2300.00 |
| 12 | Journal of Marketing | (P+O) | 42250.00 |
| 13 | Journal of Entrepreneurship | (P+O) | 3500.00 |
INFLIBNET N-LIST
The N-LIST project provides access to e-resources to students, researchers and faculty from colleges and other beneficiary institutions. The users from our college can now access 6000+ e-journals and 3100000+ e-books. Registered members can download articles and book chapters required by them directly from the publisher's website.
Library Orientation

An orientation program is held for all new students (Junior college, UG and PG courses) at the beginning of every academic year. Through this program, an effort is made to familiarize every new member with the use of the library and acquaint them with its policies. The resources, services, facilities etc. offered by the Library are discussed. 
Display of New Arrivals

New books, which are recently added to the library collection, are displayed in the glass display racks to make students and faculty aware about them.
Visitor

Visitors are allowed to use the library on payment of fees.
Best Reader's Award

The Library Committee has instituted a 'BEST READER OF THE YEAR AWARD' to be given to two students from the year i.e. 2009-10. The award will be in the form of a certificate and a rotating trophy.

The criteria for selection are as mentioned below.

Regular use of books, especially Reference Books
Active interest in referring to periodicals
Observation of library norms and discipline.

Book Review Competition

The Library of Nirmala Niketan College of Home Science conducts a Book Review Competition for Junior College students.

The criteria for judging this competition are:

Feedback of any fiction/non-fiction book read on the following aspects:

How well the book has achieved its goal
What possibilities are suggested by the book
What the book has left out
How the book compares to others on the subject
What specific points are not convincing

Book Exhibition

To have a glance at recent publications and to facilitate bulk purchase of books, a two-day book Exhibition is held in the library. Students and staff members can select good books for the library and for personal reading.
Marathi Bhasha Diwas

On the occasion of Marathi Bhasha Diwas a one day book exhibition is organized in the Library. The display includes different categories of Marathi Books e.g. Marathi novels, Marathi biographies, historical books, Marathi reference books, Dr. Baba Saheb Ambedkar books and rare Marathi books.
Vachan Prerana Din

Former President, Dr. A. P. J. Abdul Kalam's birth anniversary is celebrated as 'Vaachan Prerna Din' (reading inspiration day). On the occasion, a book exhibition is organized and Dr. APJ Abdul Kalam books are displayed.
Grievance Redressal Mechanism Of The Library
Discussion with the Librarian:

Students can discuss any problem related to the library and its services with the librarian.
The librarian tries to settle them in her capacity and if unresolved the Principal of the college can be approached.
Suggestion Box

A suggestion box is kept in the library seeking valuable suggestions and recommendations from the readers of the library. The suggestions made by them are taken up, discussed in the library committee meeting and implemented, if relevant.